Die besten Rock Songs aus drei Jahrzehnten!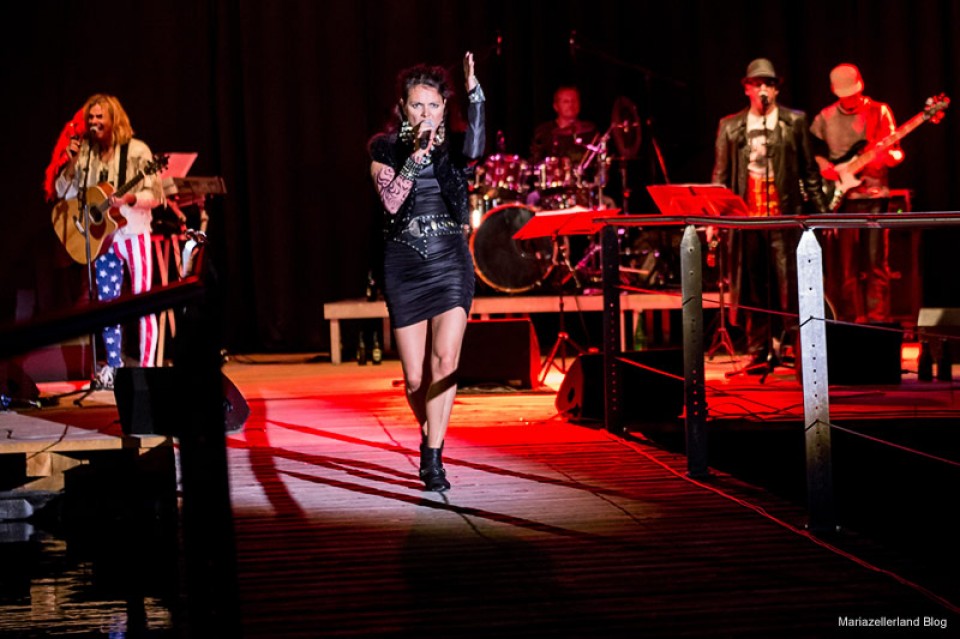 Perfekt! Für Open Air Festivals, Konzerte,
Party-Events etc.
© Dany Reiter Show Productions (Produktion & künstlerische Leitung)
War Rockmusik in ihren Anfängen noch ein richtiger Aufreger, so wurden doch ihre Stars zu echten Legenden und eine Vielzahl ihrer Songs zu unvergesslichen Rock-Hymnen.
Unterschiedliche Stilrichtungen wie der Blues Rock der ROLLING STONES, oder der schillernde 70er Jahre Glam Rock von KISS und Co, im Gegensatz dazu der Heavy Metal von AC/DC bis hin zum   spektakulären Pop Rock von EUROPE.
Sie alle prägen dieses Genre. Einige der größten Hits sind sogenannte One-Hit-Wonders wie "All right now", "Born to be wild" oder "The Final Countdown".
In den 80er Jahren fand die Rockmusik ihren absoluten Höhepunkt im Stadionrock vertreten durch BRUCE SPRINGSTEEN, BON JOVI, U2 oder QUEEN. Auch die eine oder andere weibliche Rockröhre wie TINA TURNER, SUZI QUATRO, JANIS JOPLIN oder JOAN JETT schaffte es bis ganz nach oben.
Diese Show bietet ein großartiges Live-Erlebnis mit den besten Musikern der heimischen Rock/Pop-Szene, und die drei legendären Solisten Dany Reiter, Andy Freund und Dave Moskin überzeugen durch eine starke Performance und absolute Stimmgewalt. Auch die Songauswahl lässt garantiert keine Wünsche offen!
Also – pfeif auf Konventionen! Genieße das Gefühl von Freiheit! Schüttel den Alltag ab und lass Toupet und Perücke zuhause, denn HEADBANGING ist hier angesagt!
UND ein wenig Sex, (Drugs) & Rock'n' Roll – natürlich!
Referenzen
Mariazell Bürgeralpe Seebühne Open Air
RollRinn Konzert
Bad Hofgastein Open Air
uvm.
Besetzung
7P. live on stage
3x Voc/ Drums/ Bass/ Keys/ Guitar
Demonstrative Songauswahl (in alphabetischer Reihenfolge)
Addicted to love (Robert Palmer)
All right now (Free)
Another brick in the wall (Pink Floyd)
Born in the USA (Bruce Springsteen)
Born to be wild (Steppenwolf)
Can the Can (Suzi Quatro)
Cold as ice (Foreigner)
Don't bring me down (ELO)
Highway to Hell (AC/DC)
Hold the line (TOTO)
Holding out for a hero (Bonnie Tyler)
I love Rock ´n Roll (Joan Jett)
It´s so easy (Linda Ronstadt)
I want you to want me (KSM)
I was made for loving you (Kiss)
Jump (Van Halen)
Rocking all over the world (Status Quo)
Satisfaction (The Rolling Stones)
Smoke on the water (Deep Purple)
Still haven´t found what I´m looking for (U2)
Sugar Baby love (Rubettes)
Summer of 69 (Bryan Adams)
Suspicious minds (Elvis Presley)
Take another little piece of my heart (Janis Joplin)
The Final Countdown (Europe)
We are the champions (Queen)
Maximale Programm-Länge: ca. 120 Min. netto in 1 oder 2 Sets / in Absprache.
Individuelle Programm-Gestaltung mit Schwerpunkt 70er- od. 80er-Jahre möglich.